Have you heard of "Kamishibai"?
This literally means "paper drama" and is a typical form of storytelling originated in Japan.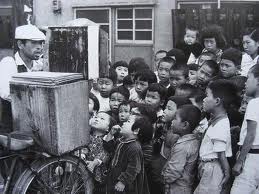 The storyteller holds up a huge size of pictures which size is about A1, and on the back of the pictures, the story is writtten so the story teller can read the story by showing the pictures to the audience in front while reading the story.
The great thing about this is that kids can share the story with their friends just by sitting in front of the storyteller and enjoy the pictures and the story realted to it. The story somehow feels always new every time  it is read, this is from my experience, so kids never get bored of it if the storyteller keeps changing his/her way of reading.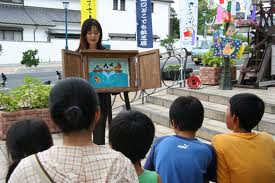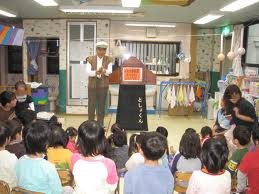 Aboves are the images of kamishibai in Japan. Even now, kamishibai interests most of the kids, even kids playing Nintendo may stop and switch off the device and gather in front of the storyteller.
 There are some links that introduces kamishibai in English so if you are interested in it, plese take a look at the site.
http://en.wikipedia.org/wiki/Kamishibai
http://www.janm.org/janmkids/kamishibai.php
* * * * * * * * * * * * * * * * * * * * * *
How about a complete original picture book,
your own story,your own message,
to your love ones, families and friends for,
Birthday, Wedding ceremony, Farewell party, and so on.
* * * * * * * * * * * * * * * * * * * * * *